If you are a skilled worker, employed by a multinational company, or have extraordinary abilities in your field of work, then you might be eligible to apply for an EB-1, EB-2 and EB-3 visa, as well as an L-1 visa.
What is a U.S. work visa?
A work visa, also known as an employment-based visa, is a document that allows non U.S. citizens to come to the United States and work on a temporary or permanent basis. There are multiple types of employment visas available, the right one for you will depend on the activity you'll be performing, your qualifications, length of stay, and whether you have a job offer from a U.S. employer.
If you get a temporary work visa you will most likely be working for a specific employer that filed a petition on your behalf. Once the temporary visa expires you will be expected to exit the country, unless you obtain a status adjustment to a different visa. This is why temporary work visas are part of the nonimmigrant visa category. The most common temporary work visas include the E, H, L, P, and O categories.
On the other hand, there are visas available for those seeking to live in the United States permanently based on their job skills. There are five permanent visa options: EB-1, EB-2, EB-3, EB-4, and EB-5.
Contact Us Today To Learn More About Your Work Visa Options
Available U.S. Temporary Work Visas
Temporary work visas allow you to perform a professional activity in the United States for a specific period of time and generally for a specific employer that filed a petition on your behalf.
These are the type of temporary work visas available:
H-1B visas: for workers of specialty occupations, DOD Cooperative Research and Development Project Workers, and Fashion Models
I visas: for eligible members of the foreign media
L visas: for intracompany transferees (workers of a U.S. company overseas getting transferred to the same company in their U.S. offices)
O visas: for people with extraordinary abilities or special talent
P visas: for internationally recognized athletes, artists or performers
R visas: for workers or members of a religious organization
TN NAFTA: for professionals coming from Mexico and Canada (members of the North American Free Trade Agreement)
Available U.S. Permanent Work Visas
There are five employment-based permanent work visas in the United States, each one designed to fit different professional backgrounds.
These are the type of permanent work visas available:
First Preference EB-1: for people with extraordinary ability in the sciences, arts, education, business, or athletics. This category includes acclaimed researches and professors and multinational executives.
Second Preference EB-2: for people with advanced degrees or with exceptional ability in the arts, sciences, or business.
Third Preference EB-3: for professionals, skilled workers and certain unskilled workers who can perform an activity for which there are no U.S. qualified workers available.
Fourth Preference EB-4: for special immigrants including religious workers and foreign employees of U.S. posts abroad.
Fifth Preference EB-5: for foreign investors through direct investment or regional centers.
Note: EB-2 and EB-3 visas require a labor certification. This means that you need an employer to sponsor you and prove to the U.S. Department of Labor that there are insufficient qualified U.S. workers to fill that position. Additionally, they will have to prove that hiring a foreign worker will not have a negative impact on their U.S. employees' work conditions.
Applying for a Work Visa Overseas vs. in the U.S.
01
You can apply for a work visa from outside the United States through the U.S. Department of State (DOS). Depending on the visa you're applyfing for, USCIS may need to approve your petition before you can take any further steps. Once USCIS issues the approval, your petition gets sent to the National Visa Center (NVC) where it gets a case number and will be processed when the qualifying date is met.
02
If your visa is granted while you are still abroad you will present yourself at the port of entry with your documentation and the U.S. Customs and Border Protection (CBP) officer will be the one to grant you permission to enter the country and engage in the activity your visa is for.
03
You may also apply for a work visa if you are already in the United States with a lawful nonimmigrant status. Depending on the visa you are applying for you may request a change of status to a nonimmigrant classification or to one that provides lawful permanent residence.
04
Whether you are in the U.S. or overseas, most U.S. work visas require an employer to sponsor you. However, some classifications allow you to self-petition. That is if you have an extraordinary ability or are applying for an investor visa.
U.S. Work Visa Through The Years
Number of Employment-Based Preference Visas Issued at Foreign Service Posts
Fiscal Years 2018-2022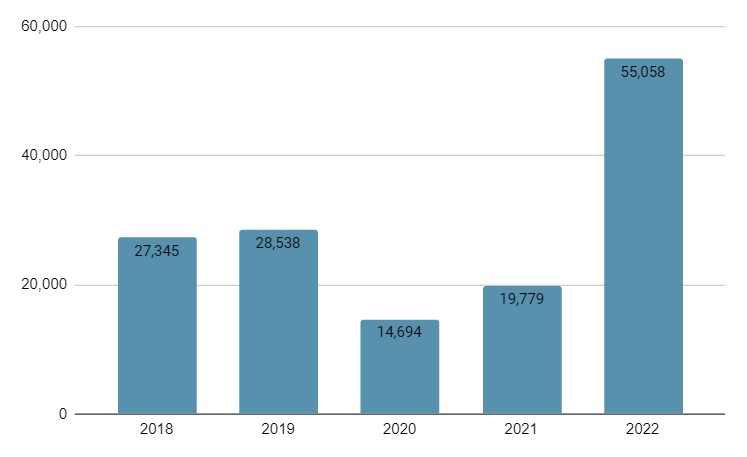 Number of Temporary Work Visas Issued (By Nonimmigrant Class)
Fiscal Years 2019-2021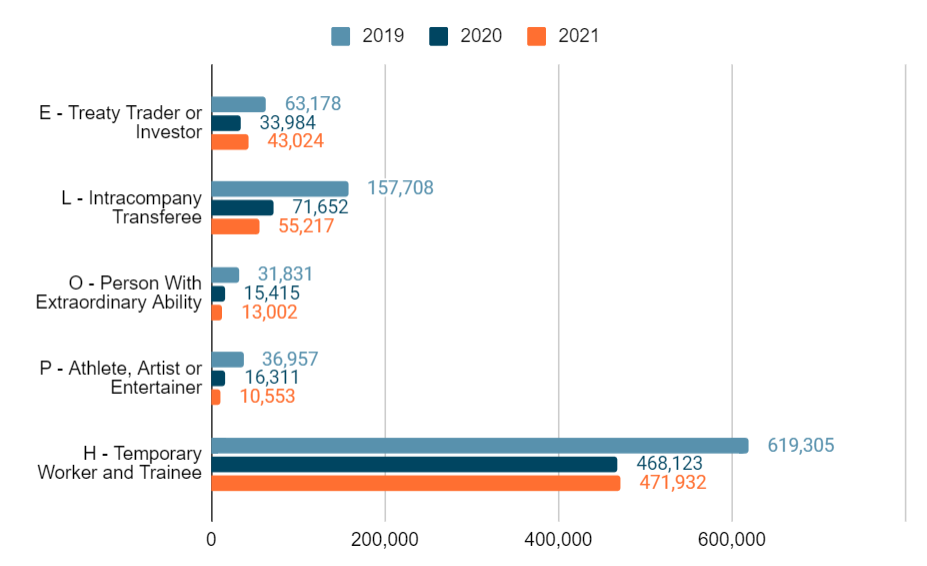 U.S. Work Visas Frequently Asked Questions
Client Reviews
Michelle Holland
24. April, 2021.
I called desperately needing help finding the A-Number for a lost green card. Lital answered the telephone and quickly helped to resolve this problem. I was able to immediately complete the I-90 application. I will now refer all my immigrant friends to this law office!!! Thank you Lital!!!
Mircea Ghinda
9. December, 2020.
Alice is the best immigration lawyer I know. She managed my case very well and she kept me updated on my status all the time, that showed that in her office work only professional and skilled people. Alice and her team was constantly calling immigration to see if the case is moving as it should without any issues. I highly recommend others using this lawyer for their immigration needs.
Anthony Shepherd
4. August, 2020.
My Wife and I are absolutely pleased with Alice and her crew! We had only a marriage based application but Alice took it to the next level. She explained everything from the beginning to the final. She's very knowledgeable , friendly and helpful. The whole office crew are helpful. Whoever is looking for a top immigration attorney, look no further! Prices are also reasonable. ?
Galyna Sas
28. July, 2020.
Alisa Antonovsky The most professional immigration lawyer that I know! Highly recommend. Easy answered on my question and gave me a properly direction with my case. Thanks a lot. She tries to understand the case in depth and listens carefully. Her advice is very much careful. Thanks for Everything thing you done for me! I will definitely recommend Alisa Antonovsky to my friends.
manuchehr saidov
13. November, 2019.
Alice Antonovsky is extremely knowledgeable, professional and outstanding immigration attorney.Highly recommended!!!
Hamza12 Haider12
17. October, 2019.
Brilliant lawyer worth it
Brianna K
16. August, 2019.
I reached out to Alice because I needed help with my green card application process. She was very knowledgeable, professional and friendly. Her staff was easy to communicate with and friendly as well. All of my questions were answered right away, everything was handled on time. Alice was very helpful at preparing me for the interview, accompanied me and made me feel calm. I'd highly recommend her services!
Please add a review
Learn How

To Start The EB5 Visa Application Today