Did you know as of 2021 there are 43.5 million immigrants in the United States? According to data published by Migrationpolicy.org, that includes new permanent residents, temporary nonimmigrants, and undocumented individuals.
When it comes to navigating the complex world of immigration law, having the right legal guidance and representation is essential. An experienced immigration lawyer can provide invaluable support, ensuring that your rights are protected and that you have the best chance of achieving your immigration goals. 
More often than not, we hear terrible stories of unscrupulous people who have bilked immigrants out of thousands of dollars by pretending to be immigration experts. It's crucial that you learn to avoid these kinds of scams. It's not just about the possibility of acquiring legal status; doing your homework before hiring a lawyer is critical to avoid green card problems.
Before Hiring an Immigration Lawyer, You Need to…
Roll up your sleeves and start working on your case. Doing some basic research may take some time, but it's well worth it. The first step is to consider the type of immigration matter you are dealing with, whether it's a visa application, deportation defense, family-based immigration, or any other immigration-related issue.
Different lawyers may specialize in specific areas of immigration law, so identifying your needs will help narrow down your search. Once you know what your goals are, you will need to put together a list of the immigration lawyers you have found online, in a legal publication, or who were recommended by family and friends.
Explore reputable legal directories, law firm websites, and review platforms to gather a list of potential lawyers in your area. Take note of their expertise, experience, credentials, and any client testimonials or reviews available.
Then, schedule an appointment with each one and ask them the following five questions:
1 – How much will the consultation cost?
While some attorneys offer an initial consultation for free, please note that a lot of the times you get what you pay for. Just because a consultation is free, does not mean it is going to solve all your doubts. A lot of newly admitted attorneys, or perhaps not attorneys at all, offer free immigration consultation in order to entice a person to come in. Oftentimes, it is worth spending money on a consultation to get the correct answers to your questions while receiving the attention you deserve.
The first consultation is an excellent opportunity to discuss your case, assess their communication style and approach, and determine if they are a good fit for you. Prepare a list of questions beforehand to gain insight into their experience, strategies, and expected timelines.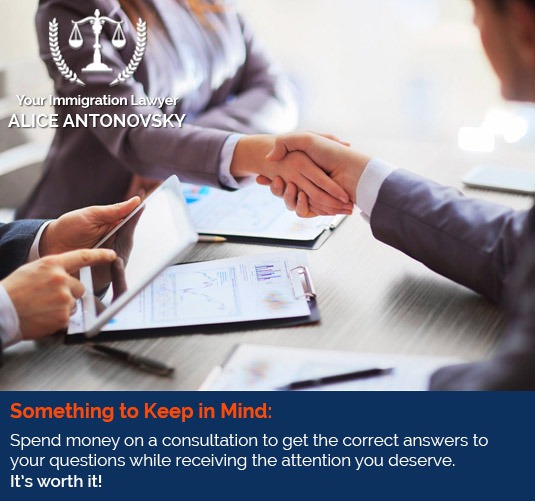 2 – Will you be charged by the hour or on a flat rate?
With an hourly rate, you will only pay for the time the immigration attorney spends working on your case. This can be quite appealing if your case does not demand that much time, but it can be troublesome if it requires intense labor. With a flat fee, the lawyer charges you a specific total fee for the moment the lawyer starts working on your case to the end.
3 – What is their focus of practice?
There are so many stories about 'specialists' swindling immigrants, that it's just outrageous. Try avoiding these so-called "immigration consultants" and paralegals. Instead, look for an immigration attorney with a proven track record of success in your particular kind of immigration case. Do they even specialize in Immigration Law? Ask them how many cases like yours they have handled over the last year. And remember to check their credentials and client reviews!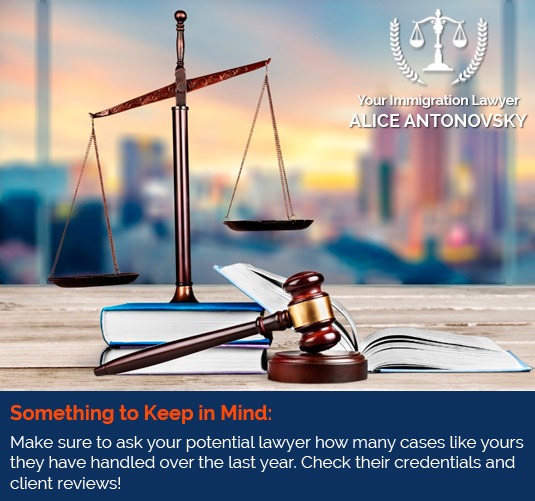 4 – When and how can you reach them?
More often clients complain about failing to communicate with their lawyers. Being able to reach your lawyer at any time during the USCIS Process guarantees your peace of mind. Making sure that your lawyer will answer or return your phone calls and schedule a private consultation whenever you feel the urge to talk to your lawyer; will guarantee an effective communication.
During the consultation, pay attention to the lawyer's communication style and how comfortable you feel discussing your case with them. Effective communication is vital throughout the immigration process, so it's crucial to find a lawyer who listens attentively, explains legal concepts clearly, and promptly responds to your queries. Additionally, consider their availability and accessibility, as you will need ongoing communication throughout your case.
5 – What about their AILA membership?
The American Immigration Lawyers Associa tion (AILA) is not only a professional, not-for-profit organization of more than 12,000 attorneys and law teachers; it is also one of the most comprehensive resources for up-to-date information on immigration law. While AILA membership is not mandatory, chances are you would prefer a lawyer who is listed on the AILA website.
Trust Your Instincts and Make an Informed Decision
Before making a final decision, verify the lawyer's professional conduct and disciplinary history. Check with the local bar association or licensing body to ensure there are no ethical or disciplinary issues associated with the lawyer you are considering. This step will help you make an informed decision and ensure that you are working with a reputable professional.
Ultimately, consider the level of trust, confidence, and rapport you feel during the consultation. A good lawyer-client relationship is built on trust and open communication, so choose a lawyer whom you feel comfortable sharing your personal information and discussing your immigration matters.
Like we stated on our 'How to Choose the Right Immigration Attorney' article, "There are more than 7,500 immigration lawyers practicing in the United States;" and finding the right one is not an easy feat. Hopefully this article will help you choose the right attorney to handle your case. Do you have any questions? Fill out the contact form in this page or give us a call to schedule a confidential consultation!