As you may already know, the EB-5 Program allows foreign investors to gain legal status in the U.S. through the 'regional center' and 'direct investment' modalities. This post is about the Direct Investment option and the most frequently asked questions we get from our clients.
What does Direct Investment refer to?
The EB-5 Immigrant Investor Visa Program was created in 1990. Direct investment is one of the two modalities that allow foreign investors to become lawful permanent residents by investing $1 million in capital to a business in the form of cash, equipment, inventory, and other tangible property. EB-5 investors must employ at least 10 American employees working at least 35 hours per week. Investors, their spouses, and children may not be counted among the ten employees.
Where do EB-5 investors come from?
There were 9,602 EB-5 visa issuances and status adjustments for immigrants worldwide in fiscal year 2018. Almost 80% of investors come from China, South Korea, Taiwan, and the United Kingdom.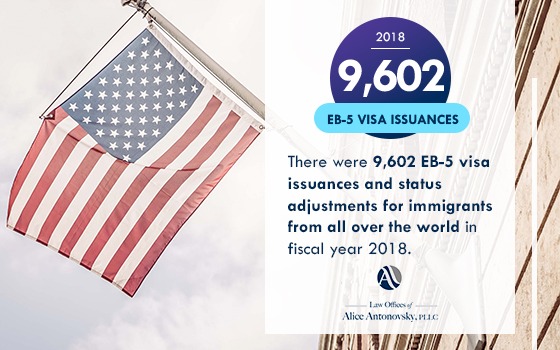 What industries do EB-5 investors prefer?
Real estate is one of the most attractive industries for EB-5 investors, some others include resorts, casinos, hotels, housing, and medical facilities.
Are major changes to the EB-5 "Million Dollar Investor Visa" approaching?
Yes, USCIS published major changes for the EB-5 Immigrant Investor Program. This year is the first time the program undergoes significant changes since 1993. Those adjustments will become effective on Nov. 21, 2019. The good news is that the new regulations will not reduce the number of EB-5 visas per year, which will remain at 10,000 visas for eligible investors.
The adjustments to the program include:
The standard minimum EB-5 direct investment level will increase from $1 million to $1.8 million.
Certain derivative family members who are lawful permanent residents must independently file to remove conditions on their permanent residence.
Immigrant investors who have a previously approved EB-5 immigrant petition achieve higher priority over other applicants.
What does President Donald Trump say about the EB-5 visa program?
In 2017, President Trump renewed the EB-5 Visa program. On July 24th, 2019, the Trump administration revealed the revamped rules for the foreign investors 'golden visa' program. The final rule will come into effect on November 21st, 2019.
Will I be covered by the current requirements if I File My EB-5 Petition Before November 21, 2019?
Yes, EB-5 petitions that are properly filed before November 21, 2019, will be subject to the current rules. Make sure that you submit your petition with all the necessary supporting evidence to avoid being denied by USCIS. Act fast to take advantage of the existing rules!
What are the Advantages of the EB-5 Visa?
One of the fastest yet straightforward methods for obtaining permanent residency in the United States.
You can choose to live anywhere in the U. S, regardless of your investment location.
Permanent residence for you, your spouse and children under 21 years of age.
There is no English language requirement for EB-5 applicants.
For those individuals who are investing through a Regional Center, there is no requirement to work or run a business.
After 5 years, you may be eligible for U.S. citizenship.
What are the Disadvantages?
Not all that glitters is gold; the highly acclaimed EB-5 program for wealthy foreign investors has its risks. The most outstanding are:
USCIS rejects some applications in this category.
US permanent residence is not guaranteed.
You are responsible for creating ten new jobs.
If your business idea doesn't work out within two years, you could lose your investment.
Unless you are expanding an existing business, you have to start from scratch – which can be time-consuming.
What are the current requirements for a direct investment?
Financial investment. The investor must have $1 million in lawfully obtained funds to invest in a U.S. business.
Fill out Form I-526 along with evidence such as bank statements, tax returns, funds records, and a comprehensive business plan.
Start an entirely new business, restructure or reorganize an existing business, purchase and expand the operations of an on-going business, or hold a policy-making role in an eligible company.
Job Creation for at least 10 U.S. citizens
Are my family members eligible to qualify for an EB-5 visa?
Yes, your spouse and unmarried children under 21 can obtain permanent green cards as accompanying relatives.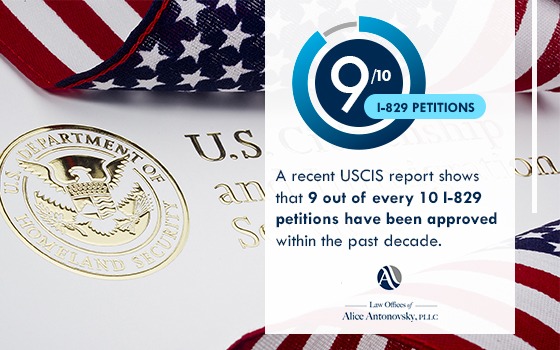 What can I do to increase my chances of getting my visa approved?
The key is to be organized and transparent throughout this process. Therefore, we recommend consulting an experienced EB-5 attorney to help you prepare your petition and complete the process. Contact Alice Antonovsky's Law Firm today, and you may still have time to apply under the current regulations.
We are a team of experienced EB-5 lawyers who are dedicated to successfully guiding investors in obtaining their green cards. We will help you prepare your petition to help you achieve your immigration goals. Wait no longer, you can schedule a consultation with us today by calling 1-(212)-729-5720.