Getting a visa through employment, a.k.a. EB category is an incredibly popular method of immigrating to the United States. As a matter of fact, it's grown so popular that around 40,000 EB-1 visas are issued each year, around 40,000 EB-2 visas are issued annually, around 40,000 EB-3 visas are issued annually, about 10,000 EB-4 visas are issued per year and around 10,000 EB-5 visas are issued per year, according to Senate RPC.
However, for most EB visa options, you need to have a U.S. employer sponsoring you. If you would like to immigrate without going via a U.S. employer or are a business owner, there are a couple of options available to you. Such options are the EB-1 visa and the EB-2 visa. In today's blog post, we'll cover the differences between these two paths and which may be better for YOU.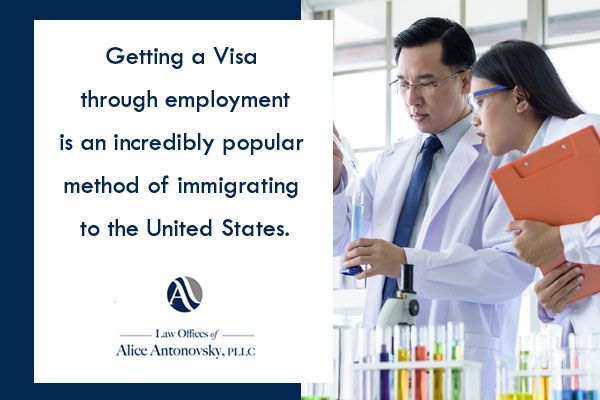 EB-1 Visa – Definition
The EB-1 visa is a highly-prestigious employment-based visa option. Covering a broad range of potential applicants, it is broken down into the following subcategories:
EB-1A: For those with extraordinary abilities in the areas of business, athletics, science, education and the arts.
EB-1B: For outstanding researchers and professors.
EB-1C: For managers and executives of multinational companies.
EB-1 Visa Requirements
Immigrants seeking an EB-1 visa must meet some of the following requirements:
Show sustained national or international acclaim.
Achievements in the field must be evidenced by extensive documentation.
No sponsorship from a U.S. employer is necessary.
Demonstrate international recognition for achievements in the academic field.
Should stand apart in the academic community through distinction and international recognition.
Must have a minimum of three years of experience as a researcher or teacher.
Show objective evidence of one's accomplishments.
Must have been employed outside the U.S. for a year within the past three years as an executive or manager.
Must be coming to work in the U.S. in an executive or managerial capacity.
EB-1 Visa Application Process
The EB-1 process is broken into three main phases:
Having an I-140 Petition Filed – This takes six months, yet petitions for the EB-1A and EB-1B are expedited through premium processing, which allows petitioners who pay an extra fee and file an I-907 form to shorten the I-140 processing time from 6 months down to just 15 days.
Setting Priority Dates – When USCIS receives an employment-based visa petition, this date is established as the priority date. The Department of State releases monthly visa bulletins with final action dates for each type of visa, based on country. A visa becomes available when the final action date in your category matches your priority date.
Adjust Your Status or Get Your Visa – This phase depends on whether you are currently outside the U.S. or in the U.S. under a nonimmigrant visa. If you already have a visa, you may adjust your status simply by filing an I-485 and wait for 6 months in order for it to be processed. If you don't have a visa, get one via consular processing.
EB-2 Visa – Definition
A step down from an EB-1 visa, EB-2 is for those with significant expertise. It's broken down into three subcategories:
Advanced degree
Exceptional ability
National Interest Waiver (NIW)
Many applicants in the EB-2 visa program must have their petitions submitted by a sponsoring U.S. employer. Luckily, the National Interest Waiver (NIW) was designed to let EB-2 applicants waive the need for a U.S. employer.
EB-2 Visa Requirements
Immigrants looking for an EB-2 visa must meet at least three of the following requirements:
Documentation of at least 10 years of work experience in the field.
Academic record of any degree that relates to the field of exceptional ability.
Certification or professional license.
A salary indicating the person has exceptional ability in the field.
Government or peer recognition of achievements in the field.
Be a member of related professional associations.
Anything else evidencing exceptional ability.
EB-2 Visa Application Process
Besides the requirements, one of the greatest differences between the EB-2 visa and the EB-1 visa is the processing time. Unlike the EB-1, the EB-2 does not allow for premium processing which reduces the petition's processing time to 15 days for an extra fee.
Those who are pursuing an EB-2 must wait between 3 and 9 months in order for petitions to be processed. As each EB-2 case is individually analyzed, processing times vary widely.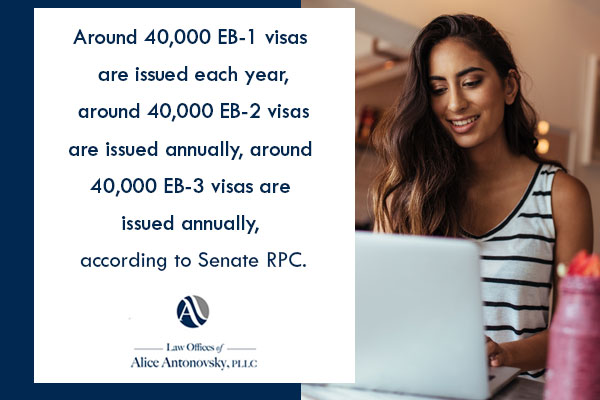 So, Which Immigrant Visa is Best For You?
It is rare that a person would qualify for both the EB-1 and EB-2 since the requirements differ. Those who do qualify for both visas need to choose. As you can see, an EB-1 has the potential for shorter processing times thanks to premium processing. Additionally, unlike the EB-2, the EB-1 does not require sponsorship by a U.S. employer.
The final action dates for the EB-1 and EB-2 vary from day to day. In fact, the EB-1 dates are moved much further back than those of the EB-2, causing applicants pursuing the former to wait much longer than applicants pursuing the latter, especially for applicants from highly populated countries like China and India.
Seek Advice From An Experienced Immigration Lawyer
No matter which employment-based visa option you choose, you should always seek advice from an experienced immigration lawyer. Here at the Law Offices of Alice Antonovsky, we have a dedicated team of expert lawyers that have helped countless others like you choose between the EB-1 and EB-2 visa. We not only walk you through the process, but we also handle all of the supporting evidence and forms. Call 1-(212)-729-5720 for a confidential consultation!